Play Texas Hold 'Em on a Mac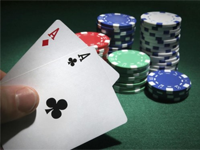 It used to be that Mac players would be grateful for a poker site offering them any opportunity to play any sort of poker but there is no need for anyone to be desperate these days. There is a fine range of online poker networks and sites offering up a varied level of poker disciplines and tournaments, allowing Mac users to pick with confidence.
It is fair to say though that Texas Hold 'Em is the number one game of choice at the current moment. Texas Hold 'Em has always been one of the major poker games but it has only been since the surge of poker popularity this millennium that the game has marched out ahead of the other poker games. TV and internet poker fans find that Texas Hold 'Em is the number one game for them and this is reflected in the offerings available on site. In short, if you are a Mac user looking for Texas Hold 'Em fun, you shouldn't have to look too hard to find it!
Know your limits and no-limit games!
Even within the different poker disciplines, it is important to know that there are different ways to play each game with Texas Hold 'Em providing strong examples of this. You will find:
Limit Texas Hold 'Em
No Limit Texas Hold 'Em and
Fixed Limit Texas Hold 'Em
The limit game, as the name suggests, "limits" the level of money you can place on each bet during each of the betting rounds. These levels will depend on the table limit but an example for a $2-$4 limit table would see the small blind being set at $1 and the big blind being placed at $2. Players will be limited to betting or raising $2 at the pre-flop stage and limited to $2 after the flop occurs. At the turn and river stages, a player is only able to bet or raise $4.
A no-limit game allows players to increase the bet by any level, subject to table stake rules, up to their entire remaining stake at any point throughout the game. No-limit games will traditionally provide a minimum level opening bet for players and the raises are commonly the level of the previous raise or above.
A fixed-limit game sees a player only choosing whether to bet or not, the amount they will bet is already fixed. At some point in the game, the fixed level will traditionally double, which is referred to as the big bet. This big bet is commonly used to enable bluffing and protection for a player.
These are the Texas Hold 'Em games you will commonly find and the following poker sites, all of which are suitable for Mac players, provide games, tournaments and variations on these games.
---
---
---
---
---
Texas Hold 'Em is definitely the in-game for poker players these days and it is no surprise to learn it is the game on offer at most sites. If you are a Mac user and are looking for a Texas Hold 'Em thrill, you don't need to look far for suitable options. All of the above online poker sites cater for Mac users and have a great range of games, tournaments and promotions to look out for. This is the era of Texas Hold 'Em and Mac users can join in the fun as much as any other online poker player.