Online Poker Networks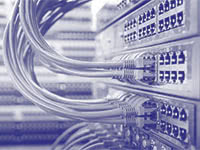 You may have heard of the term poker network but never been too sure about what it actually meant. A poker network is a very complicated thing but thankfully for the users who get pleasure and enjoyment from the many sites on a poker network, it is not too difficult to use. A poker network should be viewed as software created by a company or firm that is provided (licenced) to a poker site at a price. The software makers earn money by licencing the poker products and the sites make money through attracting players to play on the site.
This may explain why you have seen poker sites with a similar layout or the same graphical interface. In fact, games, bonuses, promotions, features, the speed of the game may all be the same and this is down to the fact that the software behind the different sites is the same. This is a sensible way for poker sites to go about providing games and promotions for a number of reasons. Setting up a poker site, testing everything, ensuring the games are fair and that the site is fair can be expensive and time-consuming. There are always advantages to be gained from bulk production and then selling, which is the perfect model for the poker network business model. All of the sites on a particular poker network share the same player pool so a new site can instantly have a lot of players playing the games, which can make it easier to entice players onto their individual site. Knowing that there are poker players, primarily signed up to other sites on the same network, to make up the numbers means that a new site can provide good poker gaming options for new players right from the start.
There are a number of successful poker networks to choose from and many players will have a favourite. Some of these players will not know that they have a favourite but if you like playing on certain games that belong to the same poker network, there is clearly something about the model, design or gameplay that keeps you coming back for more. Of course, if you are a Mac poker player, you only want to consider the poker networks that provide a platform for you to play but thankfully there are a rising number of Mac friendly poker sites and networks. There are a number of Mac friendly poker networks to choose from, four of which will be considered here, the first being the Party Network.
Mac users need to take a bit more time to weigh up the poker network options but they should know that there are options and alternatives for them. The networks listed above all provide a strong and secure Mac poker option and there should be no great concerns over any of them. Every player will have a preference and some of the networks excel in some areas while failing in others but there is enough choice to suit most people. If you are a Mac user worried about the online poker experience, looking at these networks and sites will hopefully give you a great starting point to get involved with the online poker community.
Related Pages