Play Omaha on a Mac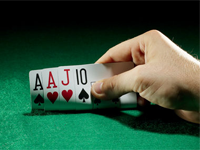 It may be down the list of online poker favourites but it is fair to say that Omaha is one of the fastest, if not THE fastest, poker variation available today. Once a trend like this gets started it can be difficult for it to stop so it is likely that Omaha will become one of the more commonly found poker disciplines in the near future. If you need to learn all about Omaha or want a refresher course, read on for an insight and where Mac users should look to play Omaha.
There are similarities between Texas Hold 'Em and Omaha, which makes many people think that they can easily jump between the two disciplines but there are some notable differences which will impact on how the game pans out. Some of the differences include:
Every player is dealt four hold cards, not two hole cards.
A player is not able to play four or five cards on the board with less than 2 of their own cards.
A player is not able to utilise 3 or 4 hole cards in order to disguise a strong hand of their own.
There are three main types of Omaha game you will come across on online poker sites and these are:
Limit Omaha. This game has a specific level of betting amounts that can be played in the game and in every consecutive round where betting takes place.
Pot Limit Omaha (sometimes referred to as PLO) where a player is only able to bet to the level of what is held in the pot.
No Limit Omaha, where a player can bet all of their stake at any point.
The positives and negatives for these games will depend on the individual player and their attitude to poker playing. Omaha is sometimes referred to as "the nuts" game because it is believed that bold play is the key to winning. This means that it is not for everyone but it is a good poker option to have. If you are looking for a Mac friendly site which will provide Omaha games, beware that not every Omaha poker game is available on all of the sites but you will be able to find what you are looking for on at least one of the Mac compatible online poker sites.
---
---
---
---
---
Things change quickly in the online poker environment and this is something that Mac users know all too well. It wasn't that long ago when Mac players were struggling to find online poker sites to play on and now players have a choice to make when it comes to finding the site that is right for them. When it comes to Omaha, it is far from being the most popular form of poker play but there is a strong growing trend which suggests that there will be a lot more Omaha games to play online in the near future.
If there is one thing that online poker sites and networks understand it is about giving players what they want so if you are keen to play more Omaha games, let your favourite site know and you'll see improvement in this field soon.