SportsBetting Poker Bonus

One of the first things that strikes you about the SportsBetting Poker site is the SportsBetting aspect of the name. If all you want to do is play poker, you may be out off by the range of online gaming options provided by the site. However, this doesn't have to be the case and the poker site is enough to stand on its for poker players. Mind you, if you do like to bet on sports games or enjoy casino play, signing up for SportsBetting Poker will provide you with the chance to make the most of your online gaming time.
There is also a strong reason to sign up for the SportsBetting Poker site when you consider the matched deposit bonus available on site.
Grab a 100% matched deposit bonus on SportsBetting Poker
Players making their first deposit on the SportsBetting Poker site have the chance to grab a 100% matched deposit bonus. As long as the player makes a deposit of at least $50, the bonus is available. To obtain the deposit, players should make their deposit and then email the site to confirm that you are looking to obtain the bonus.
The SportsBetting Poker site pays out the bonus at $5 increments, with players having to earn 1,500 Comp Points to earn $5 of their bonus. The deadline for obtaining and releasing the bonus is 60 days and any bonus that has not been claimed in this time period is forfeited.
Minimum deposit of $50
The minimum level for the 100% matched deposit bonus is $50 while the maximum level for the 100% matched deposit is $2,500. A player making a $50 deposit will be entitled to a $50 bonus, giving them $100 to play with after their initial deposit. A player making a $2,500 deposit is entitled to a $2,500 bonus, and if they claim the full bonus, they will be able to play with $5,000 on site. However, a player depositing $2,501 is not entitled to the 100% matched deposit bonus, they will only receive a $2,500 bonus in return; which means that they don't receive the full 100% matched deposit bonus.
The 60 day deadline for claiming and releasing the SportsBetting Poker bonus should be considered before a player makes their initial deposit. Any player that is likely to play on the site a lot within the first two months on site should be able to get a good enough return on their initial deposit. Any player that is unlikely to play a lot on the site within the 60 days will find that it is best to place a smaller level of funds into their account so as to not feel frustrated by missing out on a large proportion of their bonus.
Get the SportsBetting Poker Bonus
$5,000 freeroll tournament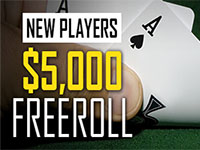 While the 100% matched deposit bonus is an attractive way to start your time on the SportsBetting Poker site, there is also a chance for new players to gain access to the $5,000 New Player Freeroll game. This game is played every Sunday. Players that make their initial deposit between Monday and Thursday will receive their invitation to that week's New Player Freeroll game while players that make their initial deposit on Friday, Saturday or Sunday will be invited to play in the next week's New Player Freeroll tournament.
One thing that may appeal to players looking for a new poker site to sign up with is the fact that SportsBetting Poker allows payments by Bitcoin. This is an interesting feature and while there are some online poker sites providing Bitcoin options, it is far from being a common occurrence. This is a way to deposit and withdraw funds with fewer transaction fees and Bitcoin payments and withdrawals are recognised as being speedy. Time and money will always be important so it is good to know that Bitcoins are being utilised by more online poker sites.
Bitcoin
By itself, the Bitcoin feature shouldn't be enough to sway a player to choose one site over another but when you think about the wide range of features on offer at the SportsBetting Poker site, particularly for new players; it is an option worth considering.
With the amount of online poker sites to choose from, players should be looking for more before they decide on what site or another. SportsBetting Poker is a good option, not just because it allows players to enjoy a range of gaming options, but because it rewards players making their first deposit. If an initial deposit is important to you, the 100% matched deposit offer and the Freeroll events for new players will be of interest and benefit.