RedKings Poker Mobile Review
Please avoid playing at RedKings Poker. Our experience with this online poker site has been a real disappointment and therefor we recommend playing at a more trustworthy poker site.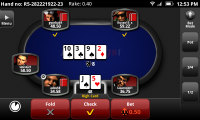 The chances are that you spend a lot of your online time in the company of a smartphone or a laptop. The way that people access the internet these days has changed greatly and there is a much greater emphasis placed on being mobile. This has caused a great number of changes for many firms and companies involved with the internet and the online poker industry has been impacted.
It stands to reason that poker players want to have their favourite games and poke tournaments available to play on their mobile devices. This is why it is so good to see that many sites are providing players with this option and the RedKings Poker mobile app is a sound choice. This app is available for Android users and it is also suitable for all Apple users too. It doesn't matter if you have an iPad, an iPad Mini or even an iPhone, you will be able to enjoy the familiar poker games and tournaments of the RedKings Poker
One of the best things about the mobile offerings of the RedKings Poker site comes with the fact that the Strobe Poker element is playable on iPhones and iPads. If you are not up to speed with what the Strobe Poker element is, it is the RedKings Poker version of speed poker. This style of poker has become very popular of late with players able to play a lot more hands by being able to fold quickly and move onto another hand that interests them more.
Speed poker is the ideal style of play for mobile poker devices
This style of poker play works perfectly well with mobile devices and it is a great addition to what is on offer. Eventually, all poker mobile apps will have the capability to ensure that the speed poker variant of the site is included but until that time comes along, you at least know that the RedKings Poker mobile app has everything you could need.
Don't think that you can only access Strobe Poker on the RedKings mobile app though, there are plenty of other ways in which you can play poker on your smartphone or tablet. The standard Sit N Go games, ring games and even tournaments can be assessed wherever you are. You should always bear in mind that this app can drain your battery at a faster rate on your iPhone so unless you have your charger with you, don't aim to take part in tournament play on your phone.
Something that the RedKings mobile app is able to provide which a great number of poker apps have not yet mastered is complete integration with the banking methods from the app. Many poker apps suffer through the fact that players have to get online to their main account to be able to deposit funds into their account but that is not the case with RedKings. This is a very strong benefit for poker players and if you have an iPad or an iPhone, you can take great comfort that the app is ready to be used at all times.
While it is not one of the biggest poker names in the industry, the RedKings Poker site does have a very good reputation, which can be seen here in the RedKings Poker review and its reputation is enhanced by this mobile offering. Whether you use the iPhone or the iPad, you will be able to gain access to your favourite poker games, no matter where you are. This is a huge benefit to all poker players and this app is one of the premier apps, at the time being, for the mobile poker industry.