PokerStars Bonus

Recognised as the largest online poker site in the world, it is fair to say that many poker players already know all about PokerStars. However, there are always new players taking steps into the online poker community and there are players who may have not bothered with PokerStars before but who have now decided to get involved with what the site has to offer.
PokerStars launched in beta mode in September 2001 and it soon became a money-based site in December of the same year. The site really came to prominence in 2003 when Chris Moneymaker battled his way through from a satellite event all the way through to becoming the 2003 World Series of Poker Championship. In many ways, this triumph legitimised online poker and as PokerStars was the site behind this triumph, it became the go-to site for the new players that were flocking online to enjoy poker.
A good welcome bonus can make all the difference when you are looking for a poker site to play on and you'll be glad to know that the PokerStars first deposit bonus gets you off to a flying start. Players making their first real money deposit will receive a 100% matched deposit bonus, up to a maximum value of £400. The equivalent for PokerStars' bonus in US dollars is 100% up to $600.
Know what to expect from your PokerStars bonus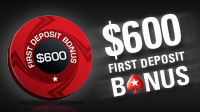 A key benefit of the 100% matched deposit bonus is that it is very easy for players to know what they should be entitled to from their bonus. A new player depositing £50 on the PokerStars site will be able to pick up a bonus of up to £50 from the site. A player depositing £400 with the site can earn a bonus of £400 if they meet the full criteria. However, this is the limit, and a player that deposits £500 to the site will only receive a bonus of £400, so you may want to think about what you are happy if you are looking to make a major deposit when you start playing on site.
Once you have bagged your bonus, it is time to start playing in order to earn the VIP Player Points, or VPPs, which will allow you to collect your bonus. The PokerStars bonus is paid out in increments of £10 for every 200 VPPs you earn. You earn VPPs by playing real money games so if you want to get your hands on the bonus that is due to you, these are the games that you need to be playing. Players have three months to earn their first deposit bonus on the PokerStars site.
Know the poker bonus deadlines
Knowing the deadline for earning and then claiming your bonus is crucial and this should impact on the amount of money you are comfortable depositing with the site. If you are unlikely to spend a lot of time or money on the site in the first two months of your time on site, it is probably best that you don't go for a high bonus. Well, you shouldn't make a large deposit without at least accepting that you may not receive the full bonus you are technically entitled to. Not everyone is bothered about getting the full bonus that they are entitled, but of course, some people are, so just make sure you know what you expect from PokerStars before you deposit and make sure you adjust your finding accordingly.
If you have used your entire first deposit bonus, or you want more, and are keen to receive further bonuses and benefits by playing on site, there is a follow-up deposit bonus on offer. After making the initial deposit for your bonus, you can make up to 2 additional deposits that are eligible for a bonus. This gives new players on the site the opportunity to ramp up their bonus earnings, allowing them the chance to explore the PokerStars site without spending too much of their own money. This is always a positive state of affairs to have when trying a new poker site. For the additional bonus element, players need to earn 300 VPPs for every £10 increment of their bonus that they earn.
The additional bonus
The same time constraints are in place with the additional bonus so be sure to consider if you can reap the benefits of the money you are placing into your account. You will always be able to play the actual money you deposit but for most players, the bonus is an added incentive when it comes to joining a new poker site.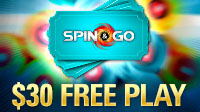 An additional bonus available to PokerStars players when they make their first £10 deposit on site is the £20 free play offer for the Spin & Go games. This bonus is paid out a number of days in the players first week on the PokerStars site, with the breakdown as follows:
First day sees the player receive 5 $1 Spin & Go tickets
Second day sees the player receive 5 $1 Spin & Go tickets
Third day sees the player receive 5 $1 Spin & Go tickets
Fourth day sees the player earn a $5 cash bonus
Fifth day sees the player receive 5 $1 Spin & Go tickets
Sixth day sees the player earn a $5 cash bonus
There is a 21 day expiry limit for the Sit N Go tickets, so this will be of most benefit to players who are likely to spend a lot of time on site in the first three weeks of playing on the site. If this sounds like what you intend to do, this will be a way for you to enjoy the site without spending a lot of money but if you are unable to maximise your time on site at this period of time, you may find yourself left frustrated at having a bonus but not getting the chance to use it.
If you are looking to make the most of signing up for a new site, PokerStars offers a range of worthwhile bonuses on your first deposit.