Play Your Way To Glory At A WPT Main Event
Thursday, April 3rd, 2014 at 10:46 am

While playing online poker is a great activity for many people, a lot of poker players want more. Having the chance to win more money is always going to be a positive thing in life but there is a lot to be said for being able to pit your wits against the best in the business.
Many people don't consider themselves to be a good player until they have pitted their wits against the top players in the top environments and this is why many online poker players are keen to make their way to the major poker events that take place around the world. When it comes to prestigious events, there are few bigger or better than the WPT Main Event and this is why so many people are keen to play at this style of event, at least once.
Get ready to be a big poker winner with Draft Kings and ClubWPT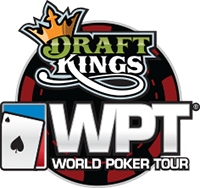 DraftKings, regarded as one of the leading fantasy sports sites on the internet, is offering ClubWPT members with a big chance of glory, which will be their last opportunity in this poker season. Players who sign up at the site will have the chance to clinch a VIP package which will see them making their way to the WPT World Championship.
This event is being held at the Borgata Casino Spa and Resort, so you know it is something that people will be interested in. There are few bigger or better places to play poker than here, so make sure you check out DraftKings to feel the benefit of your ClubWPT membership. And of course don't forget to use iMacPoker.net's bonus code (WPTBONUS) for additional benefits when opening a ClubWPT account.
There is also going to be a Super Stack tournament, with a guaranteed $2,000 prize pool, taking place on the 20th of April. If you think you are good enough to head to a WPT Main Event and steal the glory, you need to be able to show your poker skills. This event is going to be an ideal opportunity to showcase your skills and put yourself into the zone for winning poker hands against big poker players.