PKR Poker Bonus

PKR was launched in 2006 and site developed a reputation for being quirky and innovative. This was a very different poker engine to what players were using on other sites and this inevitably meant that PKR welcomed a lot of players on site initially. The PKR site is one that grabbed attention and fired up people's imagination due to its graphics. The gameplay was just as exciting though and many people found it to be a site that was well worth checking out. It wasn't just about the graphics though because player could incorporate bluffs and tell-tale signs into their gameplay, adding a more realistic edge to online poker play. For people who felt that online poker lacked the nuances of traditional poker, sat around a table with other players, PKR was a step forward.
However, some poker players are always looking for something more from a poker site and if you need a further incentive to sign up for PKR, you'll find that their first deposit bonus options will be enticing.
A 200% matched deposit bonus
First of all, you receive a 200% matched deposit bonus, up to the value of €1,000. With most poker sites, that offer a matched deposit bonus, only offering a 100% matched deposit bonus, this offer is a great chance to make the most of your money.
The 200% matched deposit bonus should make it easy to calculate what sort of bonus you can earn for your initial deposit. If you deposit €50 with the site, you can earn up to a €100 bonus. If you place €100 with the site, your bonus can go up to €200. Anyone placing a €400 deposit into the site can receive up to €800 in your bonus and when it comes to receiving the maximum bonus of €1,000; players need to deposit €500.
Remember there is a limit to the PKR bonus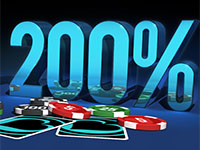 This is the figure to bear in mind because if you were to deposit €600 with the PKR site, you would only be able to earn up to €1,000 as a bonus. This means you wouldn't be getting as good a return on your money so if you do have a lot of money to deposit, it is still maybe best to consider the €500 level as this will give you the most amount of money at the 200% matched deposit bonus.
There is also a chance to enter real-money tournaments straight away, or add some spice to your online character, thanks to the gift of 100 VIP Points when you sign up. VIP Points are used to enhance the playing experience on the PKR site so it is good to see that players can get involved with the fun and action from the minute they start to play on site.
The PKR bonus is paid in increments
The bonus is paid out in increments, initially starting at 0.5% of the full bonus, and this will increase to a pay-out rate of 5%. The increase occurs at a rate equivalent of 50 VIP for every $1 of the bonus.
In order to earn VIP points, you need to spend money in tournament fees or in the cash game rake. For every $1 that you spend on these aspects, you will receive 10 VIP Points. It is also important to be aware that the pending bonus is only available for 14 days after the deposit has been made. This is a very short time frame and it may be that many poker players aren't able to generate a good return on their bonus in this time frame.
If you intend on playing a lot of poker on the PKR site when you initially sign up, you should be able to make a good return on your bonus but if you are likely to be a casual player that may not get a good run at cash games or tournaments, you should consider the level of deposit you are willing to make when you sign up for the PKR site.
Additional PKR bonuses
A good aspect of the PKR site comes with the additional bonuses on offer alongside the matched deposit bonus. Anyone looking to see what the casino side of the PKR has to offer will find that there is a welcome bonus that gets you into the swing in no time at all.
Another bonus on offer for players making a deposit is the chance to enjoy 5 free plays of the Hot As Hades slot game. There are some poker players who want to enjoy as much gaming fun and engagement as possible and having the chance to enjoy five free slot games is an excellent starting point for many players.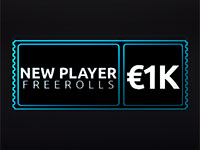 Players that make a deposit on site are also eligible for the New Player Freerolls and access is available for the first 6 weeks after registering for the site. Yes, there is no need to make a deposit to benefit from this offer, and the action takes place every Wednesday with a start time of 18:00 GMT. When it comes to getting used to what the PKR site has to offer, there is plenty for new players to enjoy about life on site.
The fact that there is a variety of bonus offers available with the PKR is a great starting point for poker players looking to become acquainted with the site. Knowing that you can get involved with the site without spending too much money, while still being able to enjoy what the site has to offer is a development and something which should entice players to sign up for the PKR site.