Making Millions With Online Poker Becomes Easier
Friday, November 10th, 2017 at 8:57 pm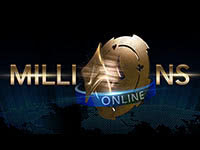 Do you have any aims and ambitions with online poker? It may be that winning a hand or doing well in a tournament is a lofty ambition for a player but there is a great deal to be said for aiming high at Party Poker. You should look to achieve as much success as possible because if you have a high target and just fail, you have still achieved an awful lot. This is why some poker players are more than happy to say they are looking to make millions.
This may sound like a pipe-dream but it could be easier than you think. This is because in early December, there will be a chance to play for a prize pot of a guaranteed $5m, which is definitely something that will excite players. The poker player that becomes the first ever MILLIONS online champion will take home at least $1m, which should ensure that you have a fantastic festive period.
Find the day that suits you best and play
There are three separate Day 1's to consider, so you have a chance to find a date that works best for you, or you can give yourself more chances of heading into Day 2 with as big a stack as you can.
Sunday 3rd of December – Day 1A begins at 5pm GMT
Monday 4th of December – Day 1B begins at 5pm GMT
Tuesday 5th of December – Day 1C, a turbo event, begins at 12pm GMT and then Day 2 begins at 5pm GMT
Wednesday 6th of December – Final table begins at 7pm GMT
There is a chance to gain access to satellite events from just $0.01, so if you want the best return you can probably find with online poker, this is something to look forward to. There is an added incentive to take action quickly with the fact that the first 100 people to qualify online will pick up a Golden Chip, which provides entry to a "last longer" competition.
The player who lasts longest out of all the Golden Chip players will find themselves making their way to Barcelona for the MILLIONS Grand Final. This is a package that is worth $15,000 so it will be more than worth your while to hone your skills and stay in the tournament for as long as you possibly can.
The thought of picking up a million dollars has to be enticing for every poker player, so why not allow yourself to dream a little and enter this major tournament in early December.