Mac Players Are In The Running For Big Poker Shareout
Thursday, May 8th, 2014 at 8:52 pm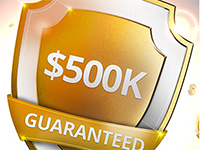 Things are definitely getting better but many Mac poker players will know all too well the feeling of missing out on something big and important. For far too long, Mac poker players had to look on enviously all because they couldn't get access to the biggest poker tournaments and games. This is no longer the case and a great example of this comes with the big $500,000 guaranteed game on offer from Party Poker. This big event will be taking place on Sunday the 11th of May so don't waste any time in getting involved with what this event has to offer.
The big event itself is taking place at 14:00 ET, which is 20:00 CET on Sunday the 11th of May. The buy-in stands at $200 and you can buy yourself in directly if this sounds good to you. Players that do this and achieve success will find that they get an additional $500 bonus on top of their winnings. If you think that you are due a big win, this may be a case of buying money but there are plenty of online poker players that will turn away from such a big buy-in. This is perfectly understandable and it doesn't need to be a barrier to success.
Play your way to big money for free
This is because there are free satellite events running so you can play your way to the big event without spending any money. This is something that should be of interest to most players and think elated you'll feel if you manage to play your way to a big cash prize with no outlay at all. The good news about this major event is that there is something for everyone in the world of online poker, even prudent Mac users, so you shouldn't find any excuse or reason to sit this one out.

There are satellites running from $1 and there are free to enter satellites. There is also going to be 100 guaranteed seats on offer in the Mega Satellite event. This is taking place on Sunday as well, this event starts at 10:30 ET, 16:30 CET, and the buy-in for this event is $5. Okay, this is considerably more expensive than the free entry that some players will gain but not too many people are going to moan about having the chance to grab a share of $500,000 for just a five dollar outlay.
There is also a big incentive for new players to sign up for Party Poker. This is because all new players to the site will receive 5 individual $1 qualifier tickets upon their first deposit. This means you will have five chances to play your way into the main event and the big prizes. A lot of people love playing in these events for the spirit and camaraderie that is on offer but it is hard to overlook the cash prizes! If you're a Mac poker player, your Sunday plans have been taken care of.