Join The Title Fight At Party Poker
Thursday, March 23rd, 2017 at 8:38 pm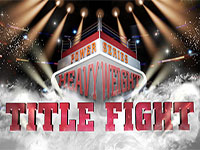 The Sunday evening poker tournament is a staple of online poker player and there are plenty of Mac poker players lining up to get a slice of this action. There are many sites and events to look out for but Party Poker understand the importance of big money and a great deal of excitement on offer when it comes to the main tournaments. The Title Fight provides the chance for players to battle it out against some of the best poker players on site and come out with a lot of cash!
The buy-in for The Title Fight stands at $215 but as you'd expect, there are plenty of satellite events offering players the chance to power through and claim their title shot for much less money. It doesn't matter you get involved with The Title Fight, the current guarantee stands at $300,000 and the big match battle takes place every Sunday evening at 19.00 GMT. This should ensure that you have a chance to fight for big cash whenever you want on a weekly basis, and this is definitely something that appeals to a lot of poker players.
Fight your way through to the big money poker game

The thought of spending over $200 to gain entry to an online poker tournament will see some players break out into a cold sweat but if you have the skills and your nerve holds, you can make your way through to The Title Fight for just $0.01! This is the cheapest satellite entry ticket, and while it presents a tough challenge, it is an option. Can you imagine how good it would feel to bag $300,000 on the outlay of just $0.01? It would be amazing to win that sort of money at the best of time but if that was all you spent to gain access to the big event, you'd be feeling rather pleased with yourself.
There are also $22 buy-in prices for satellite events, which offers a slightly shorter path for a slightly higher price! When you are a Mac poker player, there is no longer a need to make compromises and you'll find that The Title Fight on the Party Poker site is a great way to round out the weekend.
There is a range of satellite events running from Monday to Saturday and with a full schedule of Sunday satellite events, with the $22 buy-in, even if you just feel lucky on the day, you can give yourself a great chance of playing for the big money poker prize.