High Five Your Way To Success With Americas Cardroom
Thursday, November 16th, 2017 at 2:43 pm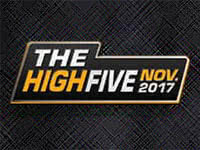 Is there a better way to share a moment of joy or success with someone than by sharing a high five? A handshake may be suitable in a formal business environment while a hug is suitable if you are sharing a moment with someone you know well but when it comes to a universal way you can share a great moment, a high five works brilliantly.
This is what Americas Cardroom thinks because between the 22nd and 26th of November, the site is running a High Five Tournament series. Over five days, there will be five fantastic tournaments and there is going to be a total of $1,400,000 on offer in guaranteed prize pools.
Enjoy a wide range of poker action this November
The site has put a lot of thought into this promotion with all of the tournament staff having input into what should be included. Game types on offer include No Limit Texas Hold 'Em and Pot Limit Omaha while there will be regular, rebuy/add on, turbos and mega stack hyper turbos to look out for. There will also be knockouts, which mean that there will be a great level of tension and drama in store for players with this tournament.
You can guarantee though that most players will be looking forward to the Main Event and this is when the real theme of the event comes together. You should focus on the "high" aspect of the High Five because the Main Event is a $420,000 event with a $420 + $30 buy-in. There will also be a ten minute break at 4.20 pm (ET) for players to take a break or even enjoy a smoke. This may not be for everyone but poker players that like to draw on outside influences to keep them calm during big hands will be more than down with the theme of this series.
The guaranteed prize pools range from $4,000 through to $420,000 for the Main Event. This Main Event takes place on Sunday 26th of November and you'll definitely be glad to hear that these special tournaments are in addition to the tournaments you find at Americas Cardroom every week.
All of the Big 10 tournaments feature double guaranteed prize pools so if you're looking for a brilliant way to spend your time playing poker, Americas Cardroom has exactly what you are looking for in late November.