Hail To The Kings Day With PokerStars
Monday, April 7th, 2014 at 9:54 pm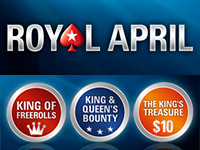 There are many things to celebrate in April and if you are in the Netherlands, you will know that King's Day is coming quickly. PokerStars is a big fan of this celebration and they want to ensure that people get every chance to have some fun with a Royal April tournament that is taking place over the course of the month.
There will be two big prizes on offer from this promotion as players could grab the chance of playing at the EPT Barcelona event. There are two EPT Barcelona packages on offer, which are worth up to €6,500, and there will be plenty of cash prizes on offer as well.
Plenty of poker opportunities on offer
The big promotion gets underway on the 7th of April with daily freerolls and $1 satellite events getting underway here. These events will provide seats to the King of Freerolls tournament and there will also be entry to $10 King's and Queen's Bounty Giveaway poker events. There is going to be a great deal to play for with EPT side events and Main Event packages on offer for players. There will also be $1,000 up for grabs in bounty prizes and when King's Day finally arrives, you'll be able to celebrate in great style with this poker promotion.

One of the best things about this PokerStars promotion is that it is available for Mac users as well. This means everyone can get involved with this big celebration for King's Day, which has to be seen as a good thing.
There may be a lot to look forward to this April, especially with Easter coming soon and you can bet that there will be plenty of poker players looking for opportunities to enjoy themselves online. Many people find that they have additional poker playing time on their hands during the Easter period and this promotion will tie in brilliantly with this poker playing opportunity.
Whether you want to celebrate King's Day or not, you will have the chance to celebrate PokerStars and the opportunity to head to Barcelona is something that players will love.