Get Exited For Hyper Double Or Nothing Poker
Tuesday, June 2nd, 2015 at 11:52 am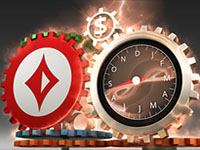 There are many different ways in which you can enjoy poker, and a lot of the ways will depend on your own free time and availability. If you have a lot of time to enjoy poker, you will find that you can often stretch out and put in a lot of hours. This is why so many people enjoy setting aside a Sunday to take advantage of the number of tournaments and events on offer on this day.
However, most of us can only poker in small windows, and this leaves us looking for a way to enjoy as much poker as we possibly can. This is why the Hyper Double or Nothing games sound quite exciting and they are billed as the Game of the Month on the Party Poker site, although it is also available on the Bwin Poker site.
You can double your money in a short period of time
The main point of the game comes with having the chance to double your money in a short period of time. Half of the poker players that play will receive a pay-out while the other half will receive nothing, so you need to make sure that you are in the right half when it comes to cashing out.
There are games taking place every day and there are various buy-ins, so find the level that you are comfortable with and get set to double your buy-in or walk away with nothing. There are three games a day to look out for, with the first one taking place at 13:45 ET.
This is the GOTM – $50 Guaranteed game and it carries a Buy-in of $2. The next game is the 15:30 ET game, which is the GOTM – $250 Guaranteed game and this carries a Buy-in of $10. The last game of the day for this promotion is the 19:15 ET game, which is the GOTM $100 Guaranteed game and this Buy-in costs $5.
Find the time and price that suits you

With three different games, and three different Buy-in levels, there should be a game that is suitable for everyone, so make sure that you have a poker game that meets your needs. The fast-paced nature of the game, and the black and white element to the pricing will ensure that there is a great deal of excitement, tension and drama involved with this game, which can only add to the pleasure and pain when you play poker.
Even if the weather in June improves and you have plenty of offers to go outside and have fun, you should find that the Hyper Double or Nothing Poker promotion is the ideal chance to find an exciting way to play, even if you have little time. With Party Poker and Bwin Poker offering up a great range of games this month, you'll find plenty of reasons to enjoy poker in June.