Full Flush Poker Has An April Spring Clean
Wednesday, April 2nd, 2014 at 10:54 am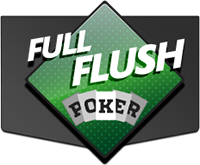 April is the month that many of us associate with a spring clean and this means it is the month when you should spring clean your home. If you are looking to freshen up your property, this is the ideal time to do so to ensure your home looks stylish in time for the summer. The notion of spring clean is not just suitable for homeowners though, it is something that can be applied to websites and it seems as though the team at Full Flush Poker has decided to carry out a spring clean of their own this month. This site has a great range of promotions, bonuses and new features that players will love.
Of course, one thing that many players will be delighted about with Full Flush Poker is that it is a site that is perfect for Mac users. If you are keen to find a poker site that treats Mac players as equals, Full Flush Poker will not let you down. If you haven't tried the site yet, you should, and if you have been on the site before, the amount of new features in April will the site feeling brand new!
On the 6th of April, the site is running a $10K NL GTD 6-Max Challenge. There is a buy-in of $25 + $2.5 but there are satellites already up and running. The buy-ins for the satellite range from $0.50 + $0.05 to $2 + $0.10, so you can get involved for a small amount of cash. Another new feature comes in for players that like to play late at night.
Full Flush players get to enjoy the Late Night $1,000 Tournament which will take place at 10pm ET every single night on the site. The buy-in is set at $3.50 + $0.35 for the late night poker fun.
Boost your bankroll on Full Flush Poker
If you are looking to buy-in, you need funds and you'll be delighted to hear that Full Flush Poker have added more deposit and withdrawal options. You can now use Neteller, Skrill and even EcoPayz to deposit funds, boost your bankroll and to cash out your poker winnings!
If you have signed up and you are looking to make your first reload during the month of April, there is going to be a 100% matched deposit bonus on offer. This will allow you to earn a bonus of up to $600, so if you are keen to make the most of your bankroll, this is definitely the sort of bonus to grab hold of. This is available for all Mac users as well, so don't feel as though you are being left out.
If you haven't yet signed up, there is also a bonus for you on the first deposit that you make. The site is still serving up a 150% matched deposit bonus, up to a value of $600, and players can grab 20% cash back instantly, up to $100, on any deposit over the value of $50. This is a bonus that will really boost your bankroll in great style. Players making their initial deposit also gain entry to the $1,000 freeroll for first depositors and high rollers get the chance to earn big promobucks.
With deposit method bonus and VIP bonuses also on offer, Full Flush Poker is pulling out all the stops in April.