Fall In Love With Full Flush Poker
Friday, February 14th, 2014 at 9:27 am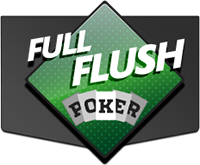 It is that time of year again when people are looking to fall in love or show their love for someone special. This can be a great time of year but it is important to not solely focus your love and affection into one day. You should take steps to make sure you do something you love on a regular basis and if you love playing online poker on your Mac, you'll find that Full Flush Poker is going to help you do something you love!
The popular online poker site is speaking directly from the heart this week and players can bag a fantastic bonus by getting involved with the site has to offer. If between now and Friday the 21st of February you manage to deposit a minimum of $50, you will be in the running for something. This is because a deposit of at least $50 will see you earn at least 250 POPs, which is all you need to gain entry to a massive guaranteed poker game on Sunday the 23rd of February.
Players that earn 250 or more POPs between now and the close of play next Friday will receive a Black Pearl from the site and this gift will grant entry to the Big Ten $10K Guaranteed game that is taking place on Sunday the 23rd. You may think that you need to wait until March for the madness to start but it looks as though Full Flush Poker is delivering some pre-March madness for its players.
Everyone can feel the poker love
Mac users have often been made to feel as though they have been left out in the cold when it comes to the online poker community but that is definitely not the case this week. Full Flush Poker is rolling out the red carpet to everyone so if you want to join in and feel the love, the opportunity is there for you to do so.
If you need any additional incentive or encouragement from Full Flush poker, how about an increase in guaranteed funds? The site has decided that they don't give out enough in the Nightly American guaranteed games and has upped the ante. The guaranteed amount for this game goes from $500 to $1,000 so there is a doubling of the guaranteed cash and fun, which has to be positive news for all you poker players.