ClubWPT Have A Happy Sunday In Store
Monday, March 20th, 2017 at 11:59 am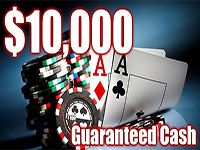 When it comes to poker tournaments, the big prize for the winner is a massive lure for players and the overall prize pool is something that grabs your attention. However, many players know that they don't have a genuine chance of taking the big prize, they just want to be involved and hopefully pick up something for their troubles. This is why Mac poker players should check out what ClubWPT is offering on Sunday 26th of March. The $10,000 Guaranteed Cash Tournament takes place at 4PM EST but for most people, the fact that 250 poker players are guaranteed a cash prize is the most interesting aspect of the event.
If you win the tournament, you are in line to grab a grand, which is never a bad prize to pick up. Your Sunday night will definitely feel a whole lot better if you are the player picking up $1,000 and even the second placed prize of $750 is more appealing than watching Countryfile and Robot Wars on television, so you if you're looking to do more with your time on Sunday night, this is a great way for you to do so. However, it may be that you doubt your ability to finish in the top places, but want to have some reward for spending your time on site on a Sunday evening.
Grab a prize even if you rank down the list

Players all the way down to 250th spot in the rankings pick up $20. This isn't much, and a lot of online poker players will turn their nose up at that sort of prize but if you haven't won anything from an online poker site or you are experiencing a drought that seems to have no end, this may be exactly what you are looking for. It is nice to get any sort of prize but a simple $20 could make a massive difference to your confidence and outlook when it comes to online poker.
There are satellite events taking place all week in the build-up to the ClubWPT event and no matter what you get on site, there will be something on offer. This is down to the fact that satellite games take place in the morning, afternoon and evening so wherever you are in the world or whenever you have spare time to enjoy online poker, ClubWPT has you covered for satellite poker play.