Carbon Poker Is Not Playing The Fool This April
Tuesday, April 1st, 2014 at 9:54 am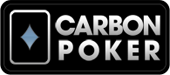 When it comes to finding good poker promotions for the month of April, you always have to be a bit wary. The 1st of April is April Fool's Day and you should never take things that you read at face value. A lot of people, businesses and websites like to have some fun at the start of the month and this may mean that they are slightly economical with the truth. This may see the promotions listed on a site as being seemingly too good to be true and sadly, some of them might just be too good to be true. This is why if you are looking to find a poker site with great promotions on offer this month, be sure that you are being offered the real deal and not a joke or two.
The big news in Carbon Poker promotions is the fact that the $10,000 Chip King promotion has returned. This promotion runs on every Sunday this month and players have the chance to opt-in and enjoy huge freerolls that take place every single Sunday in April.
Carbon Poker is also looking to help players get mobile this month. This is because the site is rewarding any player that participates in at least one cash game or "one sit & go" game with their tablet or mobile device. There will be a special mobile accolade making its way to players that meet this criteria and the site promises that this is something poker players will want to get their hands on.
Boost your chances of winning this month
The site is also rolling out a helping hand for poker players this month. There will be a range of poker training options, all absolutely free, for site members. This free poker training from the poker professionals will be available at DragtheBar. The site is also offering an odds calculator, which has been described as the leading odds calculator in the poker industry.
Another great reason to turn to Carbon Poker is the fact that the site gives Mac poker players a helping hand. Even though things have undoubtedly improved for Mac poker players, there are still not the same options on offer for Mac users as standard PC users. Things are changing though and if you are keen to find an online poker site that offers you confidence, peace of mind, great promotions and plenty of poker playing opportunities with the minimum of fuss and effort, you'll love what Carbon Poker has to offer. There is no need for Mac users to try anything else!
So, with the fact that Mac users are taken care of and April lining up to be a month where there are plenty of offers in store, there is no reason for not checking out Carbon Poker if you have spare time this month. In fact, any poker player that doesn't check out what Carbon Poker has to offer can be described as being a bit of a fool.