BetOnline Mobile Poker Review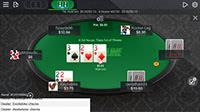 If you take a quick look around you when you are on your way to work or enjoying some time out of the house and you cannot fail to see how many people are on their mobile phone, their smartphone or perhaps a tablet. Maybe you are currently reading this piece on a mobile device and need to lift your head to see around you. No matter what you can do online, people want to do it on their smartphone devices and this is a big issue for gaming operators.
It is essential that players feel as though they are getting the full gaming experience when they play on their mobile device. It used to be that mobile gaming would be a diluted version of a standard site, and at the time, that was acceptable. Of course that was then and this is now and if a mobile gaming site doesn't offer the full range of gaming options that players already enjoy on the BetOnline desktop version, players will select a different option.
Every game available on desktop is available on smartphone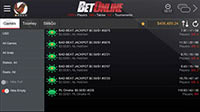 The first thing you will be pleased to read about the BetOnline.ag mobile set-up is that you can play every single game on your mobile device that you could play on the desktop version of the site. That is the ideal starting point for any mobile gaming site and it is good to know that BetOnline passes the first test with flying colours.
BetOnline is a well-established online gaming site, providing sportsbook options alongside an ever increasing array of gambling opportunities. If you are looking for a site to indulge all of your online gaming activities, this is a great choice and you'll find that the poker option is of a high standard.
First of all, there is no need to download software to get up and running with the BetOnline mobile layout, which is good news. You log in as normal and you should find that you are able to access all of the same games, information and account details that you would when playing on desktop. For mobile poker sites to flourish and prosper, they need to provide players with the same level of service that they'd expect from desktop play. This is one area where BetOnline know what they are doing and offer a good standard of service.
BetOnline Bad Beat Jackpot tables are very popular
Regular players will be delighted to know that they can still access the Bad Beat Jackpot tables on the BetOnline mobile set-up. This is definitely a popular way to play on the BetOnline site, and if it wasn't available for mobile or smartphone users, there would be something lacking. Thankfully though, this fast moving game is up to speed on smaller screens. Each individual player will have their own expectations or requirements when it comes to playing on a smaller screen and players need to be realistic when comparing poker play on a desktop monitor and on their mobile device. However, for all that, there should be no concerns about clarity or being able to keep pace with opponents when playing on a tablet or smartphone device.
There is a wide range of promotions and welcome offers available to BetOnline Poker players and these are available to desktop and mobile players. There is a 100% matched deposit welcome bonus, a $5,000 Freeroll game for new players and countless big money games taking place every single week. By playing on your smartphone device, you have added flexibility and freedom when it comes to playing poker, so if you are looking to make the most of your free time, this could be a poker option that fits with your lifestyle.
The only mobile specific bonus available on BetOnline, at the time of checking, was the $50 free bet promotion attached to the sportsbook aspect of the site.
There are no additional charges or costs associated with using the BetOnline poker option and you don't need to download additional software to enjoy this option. The fact that your single account gives you access to the site no matter whether you access it via desktop or mobile device means you can get started in next to no time and you should feel confident that the games you know and love will be ready and waiting for you. Online poker play is a huge part of people's lives these days and the emergence of mobile technology means mobile poker play is hugely important. This makes BetOnline a suitable option for mobile player players at all times.