April Is The Ideal Time To Grab A Carbon Poker Equalizer
Wednesday, April 17th, 2013 at 10:14 am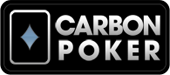 Grabbing a winner is always nice but the feeling of joy and relief that comes with grabbing an equalizer is always worth celebrating! No one likes being behind so getting back on level terms is definitely worth celebrating but when it comes to big equalizers in April. Carbon Poker may have the biggest and best lined up!
This is because the April promotion on site is the $10,000 Equalizer promotion and there is a chance for players that play poker regularly with Carbon Poker to feel the benefit. In essence, the site is challenging players to see which poker player can play the most hands in the promotion.
The $10,000 Equalizer promotion begins on Friday the 19th of April and it runs all the way through until Sunday the 28th of April. Every time a player pays rake they will earn 1 point towards the leader board. It doesn't matter if you are enjoying high stakes or participating in some micro fun, there is an equal opportunity for all poker players.
Play poker and climb the leader board
The $10,000 prize pool will be shared out between the top 75 players with respect to volume of play during the promotional period. This means that if you are able to focus on your poker play in this period you could find yourself in line for a rather nice windfall from Carbon Poker. The player that sits in 75th position will be able to pick up $10 for their energy but it is obviously the top end of the leader board that people are interested in.
The fifth ranked player will earn $575 while the player in fourth will receive $700. The player in third position will receive $1,000 and the runner-up will pick $1,400. However, the player that manages to play more poker than everyone else in the promotion and claims the top spot in the promotion will find themselves picking up $2,000. Hopefully over the course of their play, the leader board leader will win a few hands as well so this could be a rather lucrative poker period for one lucky poker player.