888 Poker Offers Twitter Tournament
Tuesday, March 21st, 2017 at 12:52 pm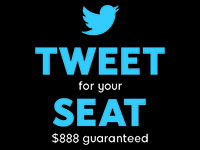 The importance of social media in people's lives cannot be overlooked and there is no denying that a lot of people spend large portions of their day on these sites. This is something that businesses know and they want to make sure that they engage with their audience in the places where people socialise. This is why so many companies are pushing up their social media marketing presence, and this can be a bad thing, because after all, people want to relax and catch up with friends on social media sites like Twitter.
However, there are times when spending time on social media sites like Twitter can boost your ability to have fun and this is definitely the case of Mac poker players who are interested in what 888 Poker has to offer. The 888 range of gaming sites is very well known and while you may think they don't need to do a lot of promotional work to support their efforts, it never hurts to engage with poker players as best as you can. This is why the 888 Poker Free Twitter tournament is a fantastic option and social media people can get involved with the site and big game with very little effort or fuss.
Make the most of your Twitter time

There is a simple three step process in gaining access to an $888 Twitter Free Tournament. First of all, you should follow the 888 Poker account on Twitter, you then tweet a message, which the company provides for you on their site, and you then register for the free $888 poker tournament! What could be easier? If you have a Twitter account and you play online poker, you'll find that following sites like 888 Poker is a smart idea because it will help you stay up to date with the latest news, information, tournaments and events. The fact that it will also provide you with the chance to play in a free tournament with a decent prize on offer is another positive factor.
The $888 Free Twitter tournament takes place on Monday 27th of March 2017, so if you want to get involved with the poker tournament, this is the week when you need to action. It will only take a couple of second to meet the criteria and then get yourself lined up for the online poker action but given the fast-paced nature of Twitter, you want to make sure you don't forget!