888 Poker Bonus

While being associated with the 888 brand makes 888poker a great option for many people, the site has developed an excellent reputation of its own making. 888poker was established back in 2002 and it has developed considerably in the past decade and a half. The success and progress enjoyed by 888poker can be seen in the fact that the brand has been recognised as the second biggest online poker network, in the entire world, and it is also seen as the second most popular brand in the online poker community.
This standing and status means that many poker players will be drawn to the site. There is safety and confidence in numbers and it is also likely that many new players will find that their friends, colleagues or associates recommend the site to them. All of which means that poker players looking for a new site will find that 888poker is a great option for them.
100% Matched deposit available from 888poker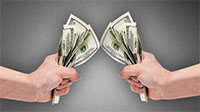 Players making their first deposit on the 888poker site have the chance to enjoy a 100% matched deposit bonus, up to a value of $400. When players deposit $10, they will receive a bonus which can rise to $10, giving them the chance to play with $20. Players that deposit $200 have the chance to bag a deposit of up to $200, which means that they can play on site with $400.
Of course, it is always sensible to be aware of the limit imposed on the bonus. A player depositing $400 with their initial deposit will receive a bonus of up to $400, meaning they can play with up to $800. Then again, a player that deposits $401 on their initial deposit will only be allowed to earn a bonus of up to $400 so the return on bonus will start to diminish. This is worth bearing in mind if you are looking to deposit a lot of money the first time you place funds into your account on site.
The 888poker bonus is paid out in $10 increments, and you earn this bonus every time you collect 100 Bonus Points. Bonus Points are picked up when playing real money poker games or casino games on the 888poker site.
Free $88 bonus package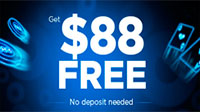 New depositors to the site can also benefit from the free $88 bonus package on offer. This bonus comes in the form of $1 in real money which is placed into the player's account, $7 worth of tournament tickets which can be used in the 888poker room and a $80 bonus which is held in pending.
With respect to the $7 worth of tournament tickets, these are offered in the form of 14 tickets for $0.5 buy-in tournaments. The tickets will be provided over the course of a week, with two tickets being provided per day.
The pending bonus is paid out in $8 increments, with the bonus being split into $1 cash payments and a further $7 in tournament tickets. This $8 increment is paid out every time a player earns 250 Bonus Points. Players that earn enough Bonus Points to receive two (or more) increments in a single day will have additional increments paid out on the following day. The maximum increment paid out in a single day is $8.
The daily bonus ticket
The daily bonus ticket has an expiry date of a full calendar day and if it is not used in this time period, this ticket will be unavailable to them.
Players can use their Daily Bonus to register for a tournament with at least a buy-in value of $0.5 and this Daily Bonus can be used to gain access to a tournament at a later date. The $1 real money credit expires in 24 hours, so must be used within that time. In order for a player to withdraw a real money bonus, they are required to accumulate 2.5 Bonus Points for every $1 bonus they receive.
There is a 90 day limit on the full pending $80 bonus.
First depositors free tournaments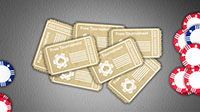 Another factor that may be enticing to new depositors on the 888poker site is the chance to enjoy free tournaments. These tournaments are set aside for new players to the site, giving people the chance to develop a feel for what the site has to offer and to have the chance to win money! Once a player makes their first deposit, they receive 7 daily tickets for the $500 Daily Free tournaments, which take place at 7.30pm GMT. This gives players that are new to the site the chance to play for $3,500 completely free of charge.
New depositors also receive two tickets to the twice-weekly free tournaments for new depositors. There are two $1,000 tournaments up for grabs and new depositors get the chance to take on both of these events. There is also one ticket for the First Depositors Challenge Tournament, which takes place every Friday. This event sees 10 players winning the chance to take part in the Sunday Challenge Tournament, so there are more than enough ways for new players on 888poker to get to know the site and generate some winnings without spending too much of their own money.
While there are many reasons to opt for the 888poker site, the range of welcome offers and first deposit bonuses provided to players that sign up has to be seen as a positive factor. If you're looking for a new poker site to play on, 888poker is a smart choice.